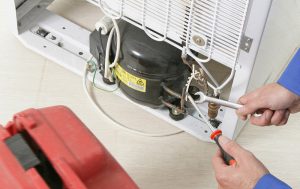 Would you know what to do if the urge for refrigerator repair Fort Lauderdale service emerged? Such situations are urgent. So, most people are not sure whom to turn to for help. If you are having troubles with a fridge in Fort Lauderdale of Florida, just share your concerns with us. Is your fridge leaking? Maybe, it won't cool at all? Put your concerns aside and dial our number! Not only do we respond fast but also provide techs upon the first request. You can feel assured that your refrigerator repair will be done both quickly and without a single hitch.
Same day Fort Lauderdale refrigerator repair service
Getting your fridge fixed fast is a matter of making a single phone call to Fort Lauderdale Appliance Repair Central. In our climate, any fridge failure leads to quick food spoilage. We know that such troubles are far from desirable. So, we waste no time! Noticed any odd symptom? Call us and tell what's bothering you. We'll send a refrigerator technician to diagnose your appliance. The pro will show up shortly and ready to address any problem. Have no doubts – you will get your fridge back on track before you know it. So, look no more and put your trust in our appliance repair Fort Lauderdale company.
We appoint experienced fridge technicians only
Today, there are many fridge models available. From top & bottom mount to side-by-side ones, their list goes on. It means that even a small fridge repair requires good product knowledge. That's why finding the right company is in your best interest. Why don't you opt for us? We provide the finest fridge service techs out there. The pros aren't only properly trained but also fully equipped with the right tools and spares. Each fridge technician is qualified to work on various makes and models, and fixes them expertly.
The techs can tackle any refrigerator service
Need some refrigerator service, other than repair? Call us as we cover all needs! Be it maintenance, setup or any other fridge service in the Fort Lauderdale area, we're the ones to count on. The pros work on all types of fridges, from freestanding to integrated ones. They fix, maintain and install them with ease. So, don't give it a second thought and make contact with us! We will provide you with a truly skilled expert, whether it's time for Fort Lauderdale refrigerator repair or another service.